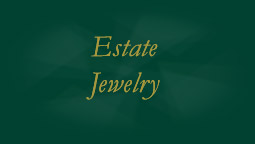 Estate Jewelry from Newport, RI
Portobello Jewelers carries many beautiful one-of-a-kind antique and estate pieces. The craftsmanship and rarity of these pieces evokes the history in which they were created, ranging from the Victorian, Edwardian, Art Nouveau and Art Deco periods.

Portobello Jewelers takes advantage of our Newport location to procure many pieces from Newport estates, as well as from European buying trips. Each piece is carefully selected for rarity, craftsmanship, and beauty.